*This will be the last Daybook post shared from the series at Wisteria & Sunshine. It is a combination of two and gets to the heart of where I would like to see the world of women and paper travel-ever closer to an earthy and wholesome place with it all. And how satisfying and joyous it is to see where all this daybook "considering" has led…
Hoping to have The Wild Simplicity Daybook in my shop later today!
Sorry if its a bit jumbled or if the links aren't always working-I can't take the time to make it all just so at the moment!*
"Even a broken heart doesn't warrant a waste of good paper."
-Dodie Smith, I Capture the Castle
With all the research and web-wanderings I've undertaken lately (not to mention my own experience and those you've shared), it is crystal clear that women are deeply fond of their daybooks/planners/journals. I would say that some have a passion or even obsession with them, which is fine in a way. I have the same tendencies myself. : ) But when you think of the resources involved with most of them…irresponsibly-sourced paper, plastic-y, vinyl covers or factory-farmed leather, stickers and extras that mean leavings for the trash bin…it's not a pretty picture.
It's so good to hear that many of you have sought out thoughtful paper to use with your handmade creations. And I'd like to make that easier with today's post with good paper resources. I wanted to write "full of good.." but sad to say, the options are still so limited.
Let's start with watercolor paper, as there was a question about recycled versions and many of us would like some pages for sketching and painting in our daybooks. I have a several pads of this w.c. paper, which I got on sale many years ago. It's nearly impossible to find any details on it these days, but I remember it being recycled and with bamboo content. I think it's lovely, but I am new to w.c. paper, so…Doing more research today I found this (100% recycled cotton made in India-and look! Circles!) and here is a readily-available option made from hemp. There are many w.c. papers out there advertised as "tree-free" and indeed they are, but they are made from cotton. Unless cotton is organic or recycled, the effects of its cultivation are quite damaging to the earth and waterways. I try to avoid it.
For unlined planner pages, I can continue to recommend Mohawk Loop Text Weight paper in Milkweed or Birch. Thick paper is just the most satisfying to use. You can find it where I linked, sometimes at Amazon (which I am using less and less), but I would recommend, if you are feeling adventurous, that you seek out your local bulk paper supplier. Mine is in Richmond, in a warehouse district and I used to be a regular visitor in my stationery-making days (and will be again!). The prices are better than online, you are shopping locally and encouraging them to supply more eco-minded papers. Unfortunately, my store doesn't carry the Genesis line, but they do carry some of the others I like, including  Neenah Classic Laid Natural White (100% pcw recycled)…all only in writing weight, I am sorry to say. I will be trying to track down a local source for Loop next.
All of the above mentioned papers are available in cardstock, which is so useful for pocket pages, cutting and pasting or scrapbook pages, covers and even some pages if you don't mind spending a bit more for them.
It can all feel a bit complicated, I know. Which probably explains why so few manufacturers, small and large, try to make sure their creations are as gentle on the earth as possible. It is one of the reasons I feel I am being drawn more strongly each day to get back into making. If you are in the midst or looking forward to making a daybook soon, as ever, I would suggest looking around at what you have. Many of the partially-filled journals that I am sorting through now will have their blank pages made into new notebooks and you can do the same for your daybook. Like the notebooks you've seen in my photos, your covers can be made from scavenged cardboard and fabric remnants, old book covers, thick handmade paper…
Perhaps you can make a box or basket a gathering place for possible ingredients that you may discover will be just the thing when I share many more ideas and photos next week?
As for pens and pencils, I keep it pretty simple. My favorite pen is a fountain pen I've had for a long, long time filled with walnut ink. I'll be sourcing this to sell in my shop eventually, but mine is some powder that I mix with water and keep in an old ink bottle. My fountain pen is the refillable kind, which is what I recommend if you can find one (no little plastic tubes and ink bottles are so nice to have around). The brown felt tip I've had for several years is finally starting to dry up, so I will replace that when I find myself in a likely place to have one. Pencils are my ever-present companions, but I never seem to have to buy them. And a benefit of helping my parents-in-law clear out their old home is that I probably never will need to buy them, as I found so many in my delving there.
I do always like to carry a little, metal pencil sharpener with me and a separate eraser (the ones of the pencils get used up so quickly and are often smeary). My perfect writing case would include room for all of these tools, but until that day, I have both on my desk and in a kitchen drawer and a pocket of my purse. I feel prepared for anything with these and my current notebook/daybook. How much more content I shall feel when my daybook is just right!
Do share your own paper and pen thoughts and ideas below…
-Wisteria & Sunshine, May 2015
"Back home at Buckshaw, I hunched over my notebook in the laboratory. I had found by experience that putting things down on paper helped to clear the mind in precisely the same way, as Mrs. Mullet had taught me, that an eggshell clarifies the consomme or the coffee, which, of course, is a simple matter of chemistry. The albumin contained in the eggshell has the property of collecting and binding the rubbish that  floats in the dark liquid, which can then be removed and discarded in a single reeking clot: a perfect description of the writing process."
-Flavia de Luce
Speaking from Among the Bones
by Alan Bradley
A handful of days left in May, and paper and daybooks continue to dot the days here and there…nearly as much as the plants and flowers and clouds do. This morning there was the first in series of pieces on Morning Edition called "Don't Write Off Paper Just Yet", and tomorrow's segment turns to notebooks. I suspect their conversation about them will be very different than ours has been. : )
I've been experimenting with elastic holding in sections of different sorts of paper and greatly prefer that look and feel to binder rings, but when I make them for sale, the largest they can be is legal-size folded in half. With some more research, I am starting to understand more about the Midori style and will be trying out various elastics, fabric/cardboard covers, paper possibilities.
And in my research, I came across this post which was interesting and might help if you are still thinking about what you would like to include in your daybook. I like what he said about making your notebook your own, personal and individual, and how that nurtures attachment to it. Another site's name made me smile…"my life all in one place".
In my latest sorting through old notebooks and pages, I came across the kind that mean the most to me…those capturing the circle of the year, special communications pasted in to keep, bits of poetry and my own brief thoughts. I was finding these and imagining a Midori-style daybook with a section of cardstock pages and thick paper ones, when I came across this…
I used to sell these little portfolios which included the address book you see and a stack of letter paper and envelopes in the middle and the left pocket held some forever stamps. As soon as I came upon it, tho', my imaginings immediately "saw" a slightly heftier, fabric-covered version to hold daybook, loose watercolor paper, shopping lists…everything one could wish.
So now I am trying to make one and I will share some glimpses next week. I am using a pillowcase (less sewing!) and some heavy recycled cardstock. If it turns out well, I will hold a small give-away for it here (and share my method, of course).
So much to ponder and discover…
As I look at the photos in this post, I am struck by the textures of the earthy papers, the sealing wax and seam binding, the edges and stitching. And I remember how good it felt to both create and use these pages and notebooks. In these days of fingers on plastic keys and eyes on glass pages, making something that brings our fingers and eyes in touch with wholesome materials and worlds of possibility in the combination of paper and ink seems a very good idea to be getting on with.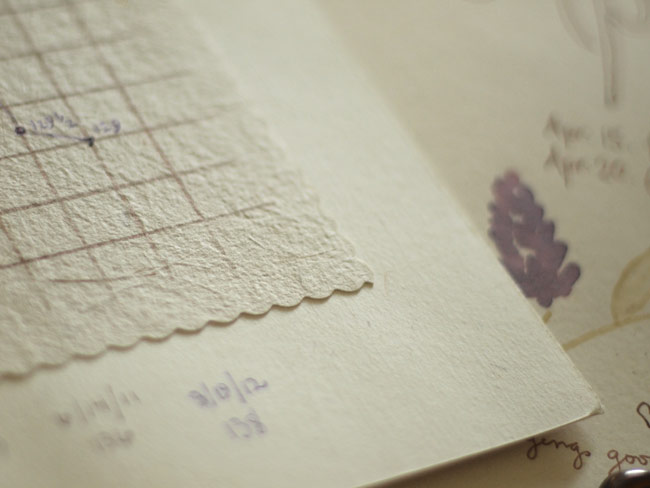 If there are any last (not that it need ever end) sharings or questions or wonderings about our Daybooks, why don't you put them in the comment box below? I will keep fashioning my own and share the details when they are settled. And June is my month to begin planning the details of the few planner offerings that will be available in August (with a W&S discount for those of you who aren't making your own daybook and might like to buy a Small Meadow one).
-Wisteria & Sunshine, May 2015