…and with it the opening of the first door of
our Advent calendar. We are playing it safe this year,
with a Tasha Tudor calendar (ordered last December
after we opened the first door of a very disappointing,
cartoon-like Advent calendar that was a wolf in sheep's
clothing…pretty on the outside, garish on the inside).
Our Advent calendar has always been very important
to us, and I trust that Tasha Tudor's work will not
let me down. How could it…so delightful and
evocative…and her books and cards have been
a part of my life for so long.
The first Christmas card I sent out as a young
woman on my own was a sweet and simple one by
Miss Tudor. And this calendar is a large version of the
Christmas card I sent one year when I was a young
mother…so tender associations all around.
And I am also celebrating Advent with
the offering of some of my cards and notebooks
and my annual calendar. I wasn't sure if I was
going to be able to manage to find enough studio-
time to have a sale this year, but I am happy to say
that I have. So there are some of my papery
creations to be found, for a short time, at my
Small Meadow Press blog (which you can wing your
way to by clicking the link in the column on
the right). Oh, the calendar is especially beautiful
this year (may I say that?) and the quotes and
images of Comfort and Joy have already
brought both to me as I have worked on the
designs and printed and folded each page.
Until next time, I wish you many lighted
candles and moments of brightness
and expectation.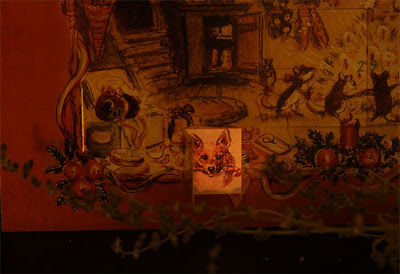 (photos taken by my son Caleb, who knows much more than
I about how to take wonderful photos in the low light
of evening)