….I am writing this as I gaze out onto a little
porch, at a table with the remains of a very delicious
room service supper upon it, and beyond it, palm trees
and the smooth green grass of a golf course and
a man in a straw hat getting ready to make
a shot….he is whistling.
I am in Florida, accompanying my mom who
is attending her 61st high school reunion. The last
few days have been spent in travel and in getting to
know her dear friends from long ago. And tonight
she felt comfortable enough to go out to dinner with
the group on her own.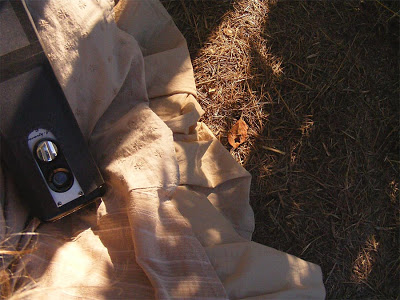 So here I am, camera-less, enjoying a few hours
alone in very odd-to-me surroundings…but thoroughly
enjoying the solitude and the strangeness. Did you know
that golf balls sound like ping-pong balls when they are
hit? This is news to me. Best of all, I am enjoying
the lack of any distraction at all while I savor the last
half of my latest Mary Russell mystery. Which is what
sent me here a few minutes ago when I read this:
"I mean, I'm sure it's a very nice house, and I know
a lot of people have summer places or hunting lodges
or things…but it's just, well, I'm not really a
briars-and-brambles kind of a girl."
"…a briars-and-brambles kind of a girl"
…is what I most certainly am.
How about you?
P.S. The photo is from late summer, when I had a quick
TTV session with my dear old Argus.
I will come back here to leave something in the
hedgerow when I return from Southern climes
next week.
xo