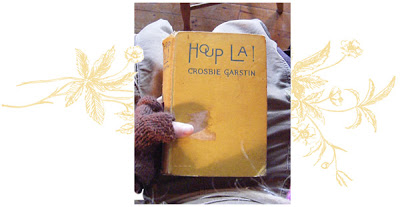 We are celebrating here at home as
the orders come into my inbox again, and I receive
lovely little messages from far and near.
It is wonderful.
My online shop has re-opened after
seven months of other responsibilities.
So let me share some details about the shop
reopening and then the particulars of a little
giveaway I would like to have to
honor the occasion.
I wanted you to know that there are many
new things in the shop now, and there will be
more to come as I get these ideas out of my head
and into reality in my studio. The calendar and
my planner-to-be are the big projects, with
other little papery beauties for home
and desk to come.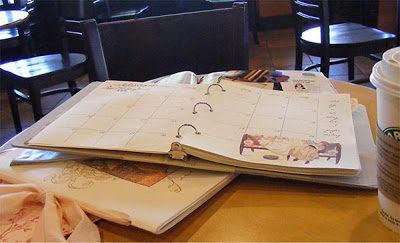 And I also wanted you to know that I will
have Holiday things in the shop after Halloween…
I don't want to rush things!
In addition to the new creations in the shop,
I also redesigned a few old offerings-the Jane Austen
missives, for instance, and my Books and Readers
set of notecards (well, half of this set!). So the new
set is in the shop and I have five packages of the
old set on my studio shelves….what to do
with them?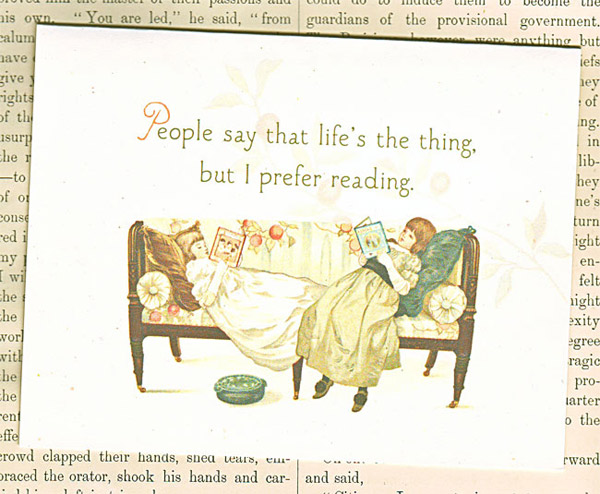 I would like to give them away to five of my
readers here…but I am going to ask for something
in return. Life has been so full the past few months,
that I have found little time to read. This just
feels wrong, and can't go on, but I don't have
an enticing novel to read at the moment
(tho' I am enjoying dipping into Julia Child's
autobiography now and then).
I have gone through all the Dorothy Sayer
novels, and as much as I know I would like them,
I don't want to reread Miss Read just now. I don't
want to reread anything, actually, so I am hoping you can
introduce me to some fresh and wonderful books. I do
love a series, so that I can steep myself in another
world for a good, long while-but that is not a
requirement. Just something to turn to at
the end of a long day and lose myself
within its pages.
I will be happily reading your suggestions
for the rest of the week and next Sunday I will
draw five names from the comments and give those
chosen the last of the old sets of Notes on Books
and Readers.
Lovely newness!
*How lovely is this? Please keep the suggestions
coming! I did want to say that-yes-I greatly enjoyed
the Guernsey Lit. book, and Elizabeth Goudge and
Rosamunde Pilcher are long-time favorites. I wish
there were some that would still be new to me…
I am so looking forward to meeting all these
new stories in the weeks to come.*
xo