Everyone else in the house, including the dogs and cats, are tucked up in bed except me. I am in my studio, coming up with new packaging for my missives…..the old envelopes with the button and string-tie closures are no longer available in 100% recycled paper, so……I just made a possibility with a friendly brown envelope, ribbon, a pasted on tag and a wax seal. It is quite charming, and I will look at it in the light-of-day tomorrow and see what I think. I have a few dozen missives sets and their envelopes in stacks around the studio awaiting being tucked up themselves, so I hope that the new packages will be pleasing to my morning eyes.
My last show was successful in every way, with lots of sales, lovely customers, great trades with other exhibitors (soap, earrings and little teaspoon rests) and over and above all that goodness, a long visit with Amy. At Amy's blog you can read about one of our many outings and you will discover that I had the privilege and pleasure of meeting Hope of Paper Relics. I live such a quiet life most of the time, it was amazing to be in the company of other women who are tending their creative businesses. Tho' we were together for hours, we didn't even skim the surface of all there was to talk about….but it was wonderful to try!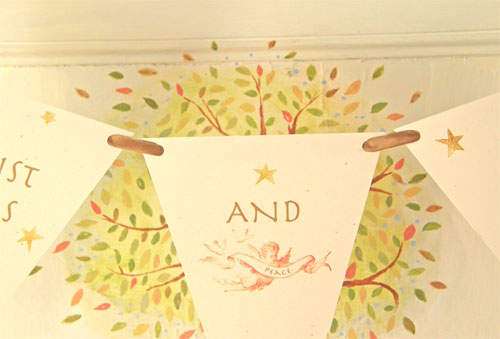 Since I returned home, life has been a bit of a blur. But a blur that has become familiar during show season. I feel a constant pressure and rush-but try not to rush or feel pressured! We basically become unschoolers for a few weeks, meals are very simple, our home is kept just on the right side of bearably untidy. The list of things-that-I-hoped-to-create for my Holiday shows hardly gets a look anymore, for I have made what was most important to me and simply have to let the rest go until another year. I have not given up on my calendar, but it will definitely not be available at my last show (which starts in five days). It will make its debut on my website in early December. And I have been filling up the website with new Winter Greetings and Garlands and tags today, and will finish up tomorrow….so everything I offer (except the calendar!) will be on the site as of tomorrow. I hope that enjoy perusing it all.
During slow moments at the four-day show ahead, I hope to respond to recent journal and website comments and for now, send out my gratitude for your insights and appreciation. I also hope to design a new and wintery logo for The Bower. It comes to me now and then that the poor woman sitting by the sea in my current logo must be chilled right through…she hasn't even a shawl. I feel quite neglectful of her, and tho' I put myself in her place quite often in my imagination, in real life I have been taking pretty good care of myself during this busy time. There are always cosy family times in between all the hours in the studio, and snatches of reading my latest English mystery, and moments of drinking in the sight of the earthy, plowed fields….the orangey leaves against the pale Autumn sky….the firelight on the hearth.
I will leave you, for now, with a photograph my beloved, amazing, creative and ragamuffin son took just this evening. He was experimenting with special settings on the camera. It is very dark, but if I lighten it, the warm mystery disappears. You may click on it for a better view, and I found that if I adjust the angle of my monitor, it brightens up a bit. The lights of home…