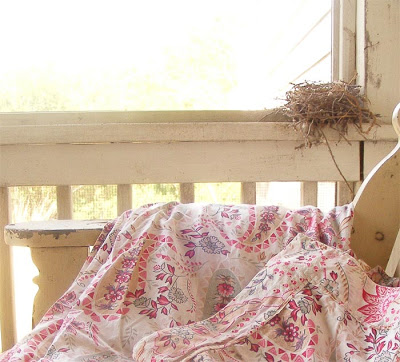 Somehow I hadn't realized how much I needed some
pattern in my life (oh, I know very well and write about
it here often enough that I long for a pattern for my
days….but this time I mean pattern of the fabric kind)
until I started reading dottie angel. But since I have been
perusing her archives and delighting in her adventures
with her own little hens and trips home to England
and feathering her nest, I felt a need growing inside
me for some enlivening pattern for my person
and my porch (which has been languishing with
the old fabrics from last year palely adorning
couch and chair). And a trip to the thrift store
rewarded me so nicely.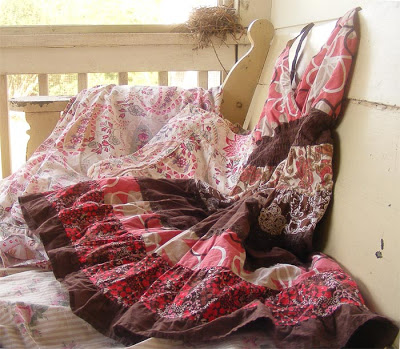 I am still glowing from the feeling of accomplishment
and good fortune that seem to follow a successful thrift
store visit. The fabric is so cheerful and folkloric and there
will be enough for the sofa, pillows and possibly the outdoor
shower, as it is a duvet cover and shams. And the dress…
full of my favorite color (brown) and so feminine
and cool (for these scorching days). Such happiness
for a grand total of ten dollars.
Now if only I am as successful bringing pattern to
my hours…I am playing with a new blog-reading
pattern and a new way to read all my dear blogs.
I am going to my studio first thing in the morning and
reading for a bit in the quiet and peace….easily clicking
from friend to friend with bloglovin. Oh, it is such an
improvement from anything else I have tried. And then
returning to my studio during my mother's nap,
for some more visiting. I find that solitude is best
for making my rounds and really taking in what
is so sweetly shared.
How do you fit your blog-reading into your day?