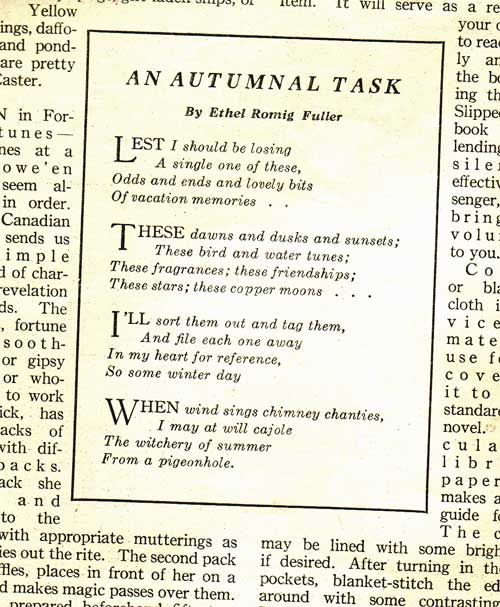 I found this recently in an antique store, in a Needlecraft magazine from 1933. I bought it to share with you and to remind myself how much I want to make time for just this sort of task. Our trip ephemera and the scrapbook and lovely supplies still sit on our low table in the kitchen…..why is that? There is so much to do these days between planning for holiday time for Small Meadow Press and lessons and trips to the mechanic and so many outings and invitations to consider. Isn't it a jumble of details we all have to handle each and every day?
I am not doing a very good job at handling all mine at the moment, and feel that my task is to figure out how to do a better job….for my own peace of mind. I want to spend less time in unproductive pursuits (oh dear, does that mean less blog-reading?) and find more refreshment in productive pursuits like this poem describes. So how to manage that? How to make that more inviting than, say, a lovely period movie that I curl up on the sofa to watch (My Brilliant Career last evening-one of my old favorites that I saw for the first time on DVD!). It seems a difficult challenge, but if tea and yummy snacks could somehow be incorporated, there may be hope. My sons may even join in. I shall keep you posted.
The trees are finally turning here and the fields are my favorite patchwork of green hayfields, stubbly cornfields, cotton and soybean fields awaiting harvest and all bordered by viney morning glories and asters. The textures and colors are soul-satisfying. As I gaze upon them, I am thinking of all of you who are working with the same hopes and challenges. Shall we all keep trying to make a useful and pretty pattern of our hours and days?