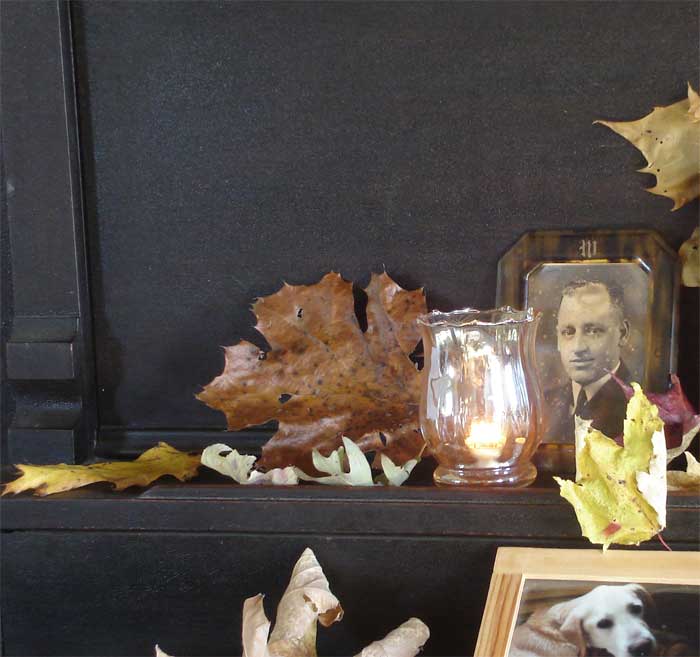 Halloween has never been a big focus of my deep interest in celebrating the special days as a family. It was sweet and simple when our children were little with the carving of our "pumpkin moonshines" (always accompanied by the reading of the book of the same name by Tasha Tudor) and trick or treating the street or two in our nearby tiny town. For a few years we had a lovely outdoor celebration on our land with bobbing for apples and candy in bowls under trees and little cloth ghosts hanging from the trees. There is always candy, sometimes caramel apples, sometimes a movie (nothing gruesome). I really don't appreciate much about Halloween, except the parts that focus on Nature…the pumpkins and cornstalks and fallen leaves……oh, and candlelight.
Many years ago I came across a book that had some unusual and creative ways to celebrate the seasons. I gleaned an idea from that book and added some of my own touches and it has become my favorite part of this holiday….and the one that will remain even after our children are not at home-some time in the future. It is a rich mixture of Autumn and All Souls Day (the day after Halloween) and I set it up a day or two before Halloween.
All the leaves that I have been picking up in our walks are scattered on the piano (the middle of ours since the top is a little above eye level) and set amongst them are candles and photographs of those we love who have gone from the Earth. I try to keep the candles lit day and evening. It makes a meaningful counterpoint to the candy and hijinks and is evocative of the tender feelings this season seems to bring. I tend to keep it up for many a day beyond both Halloween and All Souls Day… to remember our dear ones.
Do excuse the mess around the piano! I am bravely posting what that part of our living room actually looks like at the moment. I have been in my studio literally every spare moment for the past two weeks and will be for the weeks to come with holiday shows on the horizon and many website orders. Home-keeping has been sketchy at best, just enough to keep everything pleasant and fairly clean. But that is alright, or so I keep reassuring myself.