I will be able to wrap up our Summer Book Club. But the past week has been rather scattered and I am leaving in a few hours to spend three days with my mother. She needs a medical evaluation, and I plan to spend some of the many hours involved with the evaluation reading the last of Gift from the Sea. And I hope to actually dip my feet in our Atlantic Sea, while I am there, for only the second time this Summer! Hasn't it flown by?
I wish everyone well with the return of the rhythms of September, and look forward to creating an autumnal rhythm for myself and our household when I return. Until then, I will keep the comments section open in the Artful Blogging give-away…and will happily choose the recipient this weekend before I leave on Tuesday for Squam!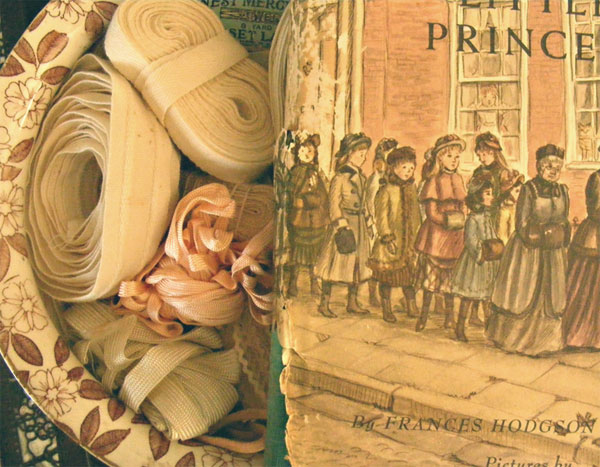 Here is a photo of a bowl of vintage ribbons and ties that I recently organized (along with most of the rest of my studio-photos to come soon!) and the book I just finished reading to youngest son. He is the youngest, but still 15 years old, and I think he was so generous to let me read it aloud to him…but it came up in conversation that he did not remember it. And I felt that *had* to be remedied! I am going to try to sneak in Linnets and Valerians before our summer's door is closed fast.