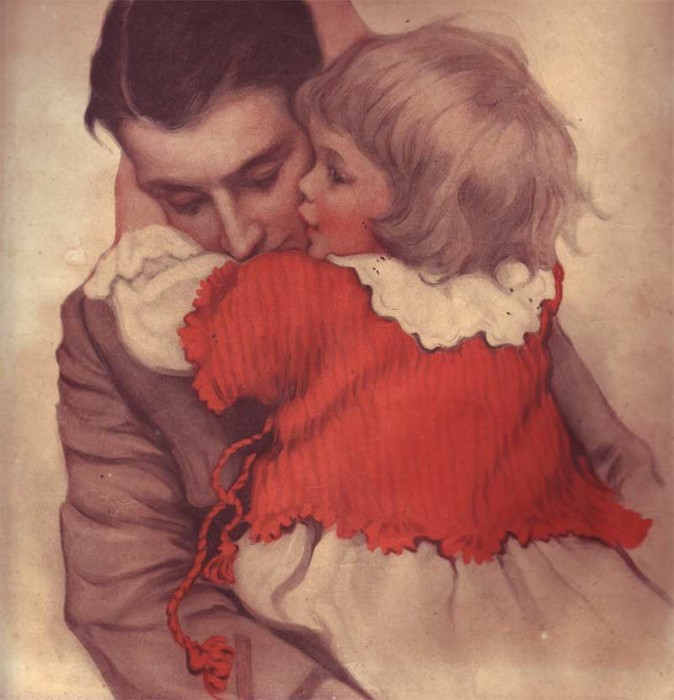 I fell for this picture at a flea market. One day I opened the back of the pretty dark brown frame and discovered that the image is an old magazine cover. I hadn't imagined that and liked to think of something so humble bringing pleasure for scores of years. I like to think of the woman who, perhaps, received the ladies magazine in the post more than seventy years ago and read the magazine through and then carefully cut the thin cover paper to fit in her frame….and then hung it on her wall. Now, it is often the first thing I see in the morning, and the last at night as it sits on the white bookshelves in my bedroom.
More than any other picture I have encountered, this evokes for me the tender, tender feelings between parent and child….between parent and small child. Soft, warm, easy. I loved to see it with my husband and our sons when they were little guys. And am grateful to see it even now, when are sons are getting so big. Our sons are blessed in their father.
This is the first Father's Day in eighteen years that I haven't been with my beloved and our boys. But I am near my own father and spending time with him, as he won't live to see another Father's Day. We have had some shaky periods over the years, my father and I, but these days, I think most often of the early years that I feel I know so well from our family photos, and am grateful for the sweet and simple togetherness I see in them.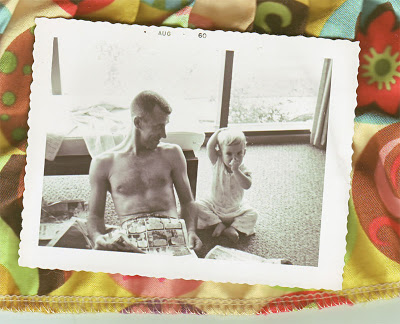 A Very Happy Fathers Day to all the dear daddies and papas in my life!