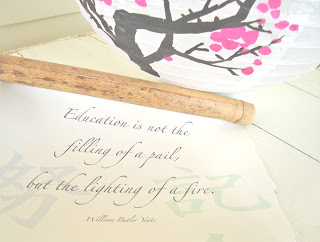 In the past few weeks, many things in my life have finished-as much as anything is ever truly "finished". Our home studies are over for the summer, I had my last good visit with my father before his illness really took him over, my shows are over and orders filled, and we graduated my eldest from our homeschool with a lovely gathering of friends and family.
It was a busy few days in between wrapping up studies and evaluations on Tuesday and the party Friday evening. Fortunately, I had ordered pretty lanterns and chopsticks and bamboo plates on the web the week before and had only to shop for the food and drink….and the sushi rolling mats. That was accomplished on Wednesday with a trip to the city. On Thursday, we cleaned house and hung paper lanterns and I made slipcovers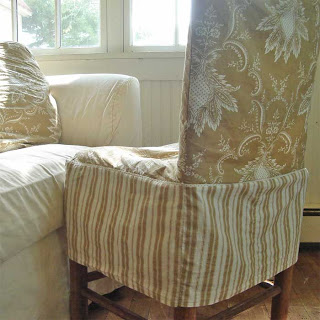 for our decrepit dining chairs. I have been longing to make these since I bought three tablecloths on sale at Williams -Sonoma last summer. One tablecloth made the three covers I needed and what a change from the paint-spattered, unraveling seated old chairs! In the evening I made the diploma and wrapped the basket full of Japanese-themed presents for my nearly-grown boy. Friday was filled with the preparing of food, including the making of sushi for the first time ever. My son and I made it together (vegetarian, so no worries about feeding raw fish to our guests), and were surprised at how deliciously and prettily it turned out.
The party was warm and vibrant and the little graduation ceremony was simple and memorable. Looking back, I realize that-as ever-a little ritual….some light and music and food….dear people….a pausing to acknowledge…..as well as bringing great pleasure and lovely memories, have helped me to absorb the "largeness" of where I have arrived in my life as a mother.
A few days later, we saw eldest, graduated son off at the airport and that brings me to these past few days. I have spent these days in a sort-of-funk. We celebrated the Fourth and I am enjoying watching Wimbledon as I do each early Summer….but between and around everything else has been a hazy uncertainty about what to do next.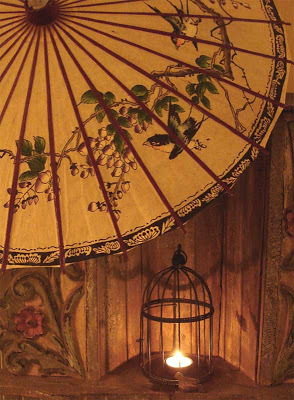 My creativity, my mothering, my business, my way of being in the world seem to be in transition….and for now, I don't have the answers about what it all will become. I have been having the most interesting dreams, with houses and new rooms discovered within them, and houses my husband has decorated with musical instruments and vacuum cleaners (?) and other houses. I know that houses in dreams are thought to symbolize the self, and my recent dreams are giving me interesting things to ponder.
So while my mind seems to be pausing, trying to catch up to where my heart and spirit are leading, it may be even quieter than usual around here….I suppose that is why it has been so quiet for awhile now. I am truly looking forward to feeling passion and direction again and hope it will arrive soon. I am on the watch for it. And that makes me think of Jo, in Little Women when she and her sisters and Laurie are talking about their "castles in the air" and Jo says "I want to do something splendid before I go into my castle, something heroic or wonderful that won't be forgotten after I'm dead. I don't know what, but I'm on the watch for it, and mean to astonish you all some day." I don't know how I feel about the "astonishing" nor do I feel the need to do things that will be remembered "after I'm dead"…..but her wish is close to mine.