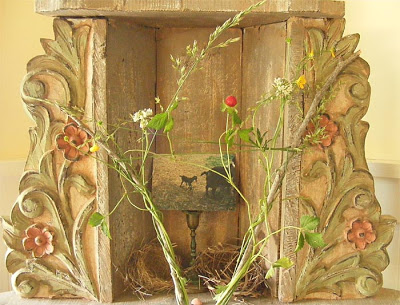 Unexpectedly, we were gathered in the pasture
this afternoon to lay to rest the body of our sweet
Caledonia. We have lost so many animals over the
years, a natural thing when you surround yourself
with hens and stray cats and dogs and goats and
the wild creatures that sometimes pass through
our hands.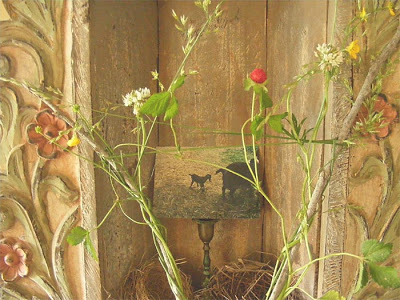 Usually I am able to find a fitting poem or
blessing to contribute to the burial…but I could find
no words today. I did find a twig in the pasture and sat
on the cushiony fallen grass…thought of Cally and wove
the wildflowers and tasseled grasses to the twig
while my husband and son shoveled earth.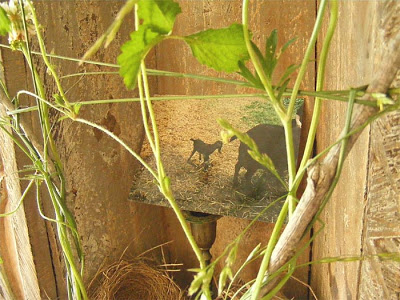 Our son reflected that Caledonia was the first of our
creatures to have been here from her birth to her
death. As I twined the stems, I realized that our
remaining goats, Duncan and Mackay, could probably
be considered elderly, too, and that our pastures
and barn might be empty in the near future.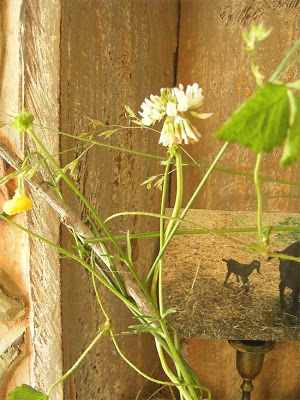 That is poignant to think of, and I hope it is ages
in coming. Tho' I don't spend time with our goats
every day (since the milking years, quite long ago) those
moments spent scratching their foreheads over the fence,
or spreading hay for them and listening to them munch
in the twilit barn, are some of the best moments
to be had.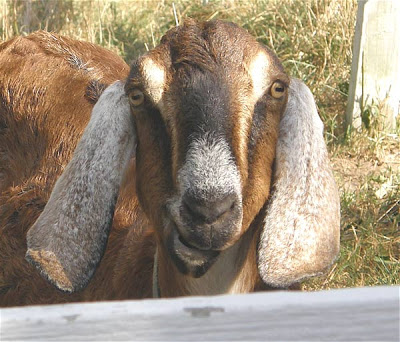 We loved knowing you, Cally sweet.