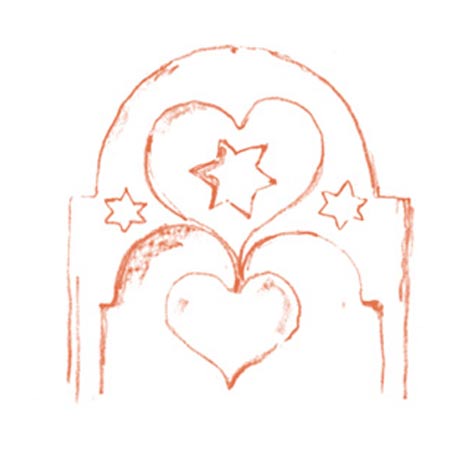 My heart is full with all you have shared with me! I am delighted that the Post Office in the Hedge brought pleasure to so many, and such insights to me. Louisa's influence continues on and on through the years…one of the many treasures of good books. To think that her description of the letterbox-in-the-hedge helped me to sort out my relationship with this journal….for blogging is not like letter-writing, not like emailing, and not like a real, live conversation….but it *is* like me leaving something for you to find if you pass by and lift the lid…and sometimes you leaving something for me to find. Really lovely! You may be sure that just as soon as I come across the right image, I shall try to manifest the Post Office in the Hedge at the top of The Bower page and in the comments area, to round out the metaphor.
And your comments have given me the surety to continue on talking of "Tragedies and cravats, poetry and pickles, garden-seeds and long letters, music and gingerbread, invitations, scoldings and puppies." -LMA That line makes me smile whenever I read it, and I shall endeavor to touch upon these things (and so many others) in the days and months to come. When I reread your thoughts and generous reflections, I do feel so rich in online community. And I am also embarking on a little "project" to put myself in the way of face-to-face community more often…beginning with a trip to a knitting shop in Williamsburg where I hope to find a class to help me learn to knit. My real longing is to become a knitter-of-socks.
And the Untangler of Threads (one of the best names for God I have ever come across) has been giving me other ideas and glimmers of answers to some of my problems these past many days…this is the Small Meadow piece of the puzzle that I mentioned in my last post, and I explain it here. Everything still feels a bit muddled in my business and studio at the moment, because the new Plan has a rather short turn-around this first time, my studio needs alot of uncluttering, I have spent the last few days in a blur of numbers doing my quarterly taxes and tending my sick boy-o….but it truly feels like pieces are slowly falling into place, and that they just might continue to do so if I keep pondering and perservering.
There is so much still to share. I want to chronicle some of our Christmas in photos here, and hope it doesn't seem too late. And I have received some lovely things in the mail recently….but all that must wait until I return from a quick trip to my mother's to help her with a few things.
Until then,
I remain,
Your devoted,
Keeper of the Bower!