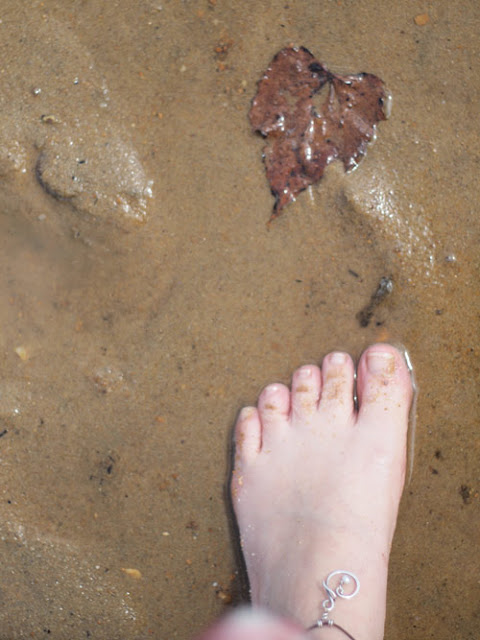 Wanting to join in with Kim Klassen's
Texture Tuesday
again, I looked for a recent photo that might speak to more than just me. And the ragged heart-leaf at the edge of the water seemed a likely candidate.
But then my thoughts of the universal joy in finding heart-shapes in nature became "oh, then the world will see your Barney Rubble feet"…so christened by a girl in the locker room of gym class forty years ago or so.
Now, I usually smile when I think of that description of my small, wide feet and I did even in that long-ago locker room. But there is always a moment when you are putting a photo on the web-for all to see-when the inner critic raises it's often ugly head. I don't have as strong an inner critic as many women, and its voice is getting less and less important to me. But I cannot deny its presence, which is what compelled me to go ahead and post this photo without another thought…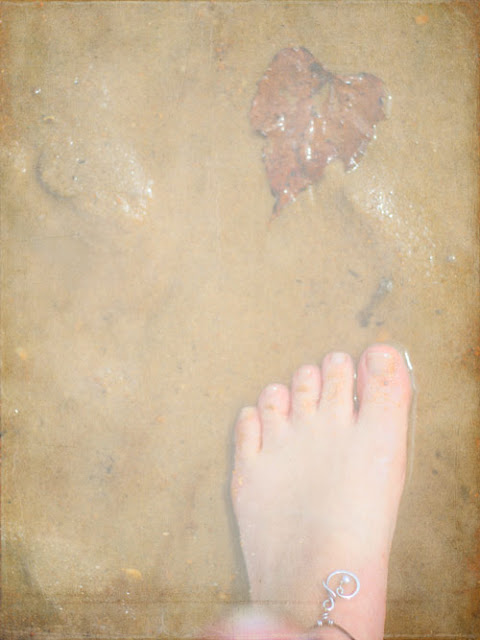 I chose this photo in the first place because it was a happy moment in the sun…with just myself and the breeze, the sand, the rocks and the undulating river. I was wearing the brown and pink thrift store pants that are pretty enough to make me choose them over my usual dress. I was wearing them low on my hips over my bathing suit because…I want to now. I feel confident and at home in this newly slender form, even with it wrinkles and pains and continually-surprising changes.
And I put my foot purposely forward in the photo, because I am quite taken with the necklace I wear wrapped around my ankle these days. It was given to me in honor of my mothering, tho' this year I am wearing it to remind me of my womb, my second heart, as I walk this healing journey. I wore it around my neck for many months, but even its tiny weight irritated an old neck injury, so I wrapped it around my ankle one day when I realized how it was bothering me. And now it brings me pleasure when I see it throughout the day…and sometimes discomfort when I feel it when I am curled up in my chair as I type or pull on a pair of socks against the late summer chill. But I am glad to reminded to send my body some love when that happens…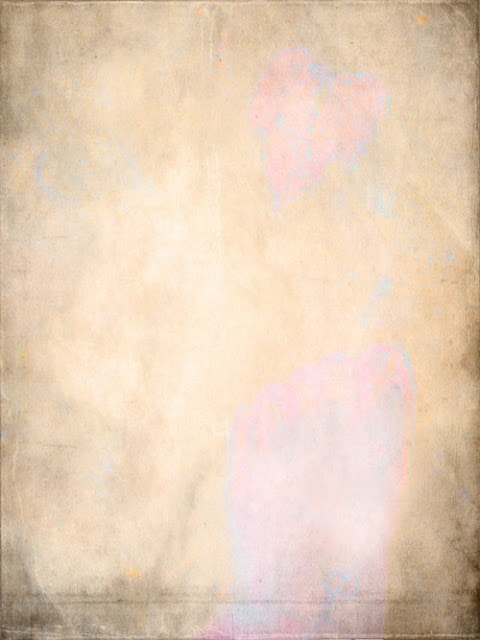 Because this last version of the photo showed me the why behind it all…the taking of the photo and the choosing and what the textures revealed. When I saw the rosy pink heart and foot that emerged when I chose the "luminosity" (isn't that a lovely serendipity? def. shedding light) setting on Kim's totalgrunge texture, I was reminded that it is best when it all comes back to Love.
I am simply trying to better love the earth, my aging body, the pain and the beauty of life, everything…everyone.