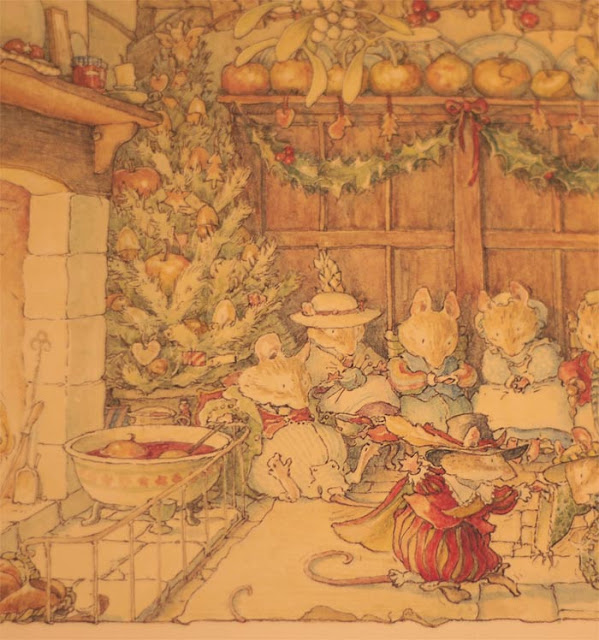 It was our Winter Solstice celebration last night…so we are very weary and happy today. Too tired to type much or prepare lots of photos, so until tomorrow, here are some photos of the Brambly Hedge folk celebrating their Winter Solstice. Ours was very similar in feeling, tho' less furry…
And here, also, are the two readings my deario and I always read around the glowing bonfire. The first is my husband's reading and the second is mine.
 "And so the Shortest Day came and the year died
And everywhere down the centuries of the snow-white world
Came people singing, dancing,
To drive the dark away.
They lighted candles in the winter trees;
They hung their homes with evergreen;
They burned beseeching fires all night long
To keep the year alive.
And when the new year's sunshine blazed awake
They shouted, reveling.
Through all the frosty ages you can hear them
Echoing behind us – listen!
All the long echoes, sing the same delight,
This Shortest Day,
As promise wakens in the sleeping land:
They carol, feast, give thanks,
And dearly love their friends,
And hope for peace.
And now so do we, here, now,
This year and every year.
Welcome Yule!"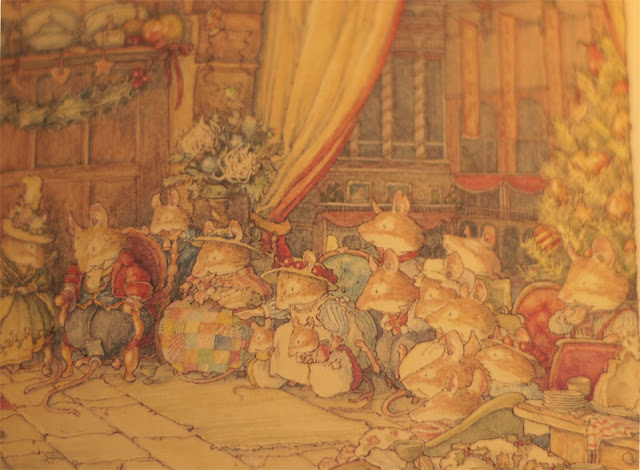 "Brightener of Darkness, hail!
Keeper of Clearness, Opener of the Depths.
Gifts of plenty are arising,
Winter wonders, white snows' fall.
Joyful be the heart within us,
Open wide the guesting door,
Wisdom waken in abundance,
Warm our beings to the core."
-Caitlin Matthews