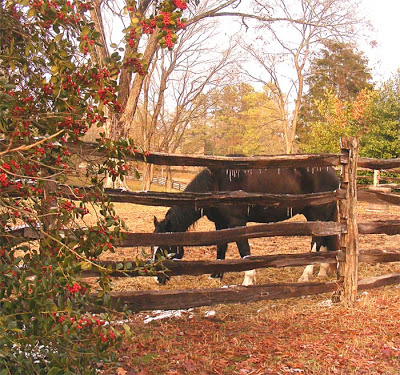 Just this one photo…
and then my camera batteries gave out.
And when the batteries gave out,
so did my resolve to endure the icy winds
as I strolled through Colonial Williamsburg.
I had it in mind to take some photos of the
pretty and natural Christmas decoration
on the doors and gates. It is very colorful
and interesting at this time of year.
Colonial Williamsburg is a special
place to many people…it is to us, too.
But it is also very familiar, like our
own backyard. I lived and worked just
next to it for many years as a young woman,
my husband courted me there (first kiss!)
and it is where he heads to work each
evening, our children ramble there with
their friends and now I often wander its
streets and nooks and crannies when
I am on my own of an afternoon…as I
did almost thirty years ago.
So I promise to go again soon to
capture some of those Christmassy
doors and windows.
In the meantime, this photo was very
satisfying to capture…the touch of red
that I seem to crave this time of year, the
icicles left on the fence from our brief
snowfall this morning, the gorgeous
shaggy horse in his winter coat.