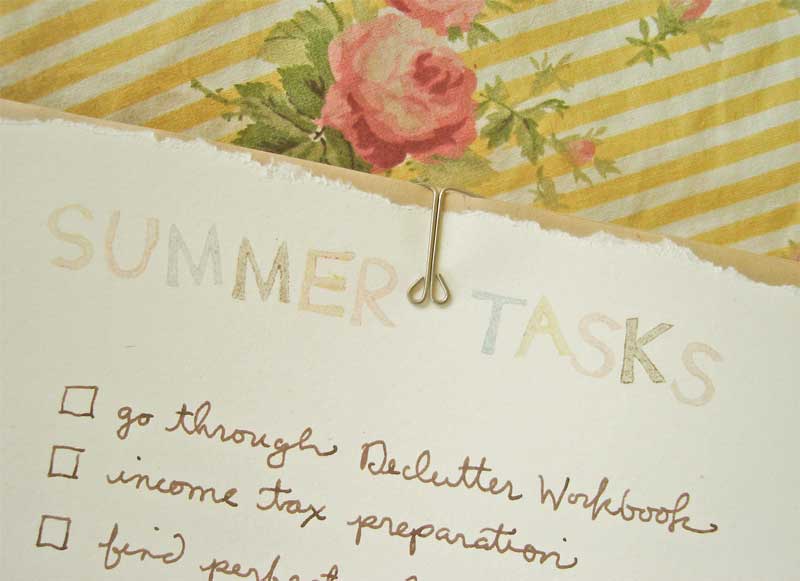 I am alone at my mother's home-by-the-water, having put her on a plane to Italy early this morning. She asked me if I would like to be going with her, and surprisingly I said that I would rather not. I am glad to be in this empty house, with the grey-blue water out the window, tending to things. I am on a little "business" retreat.
There is much to plan for Small Meadow Press in the days and months to come-deciding what items to keep making and what needs to be let go…envisioning a new design for my website …continuing to try to find truly recycled and tree-free papers to take the place of the ones that have been recently discontinued….pondering how to keep it all fresh and meaningful after five years in business.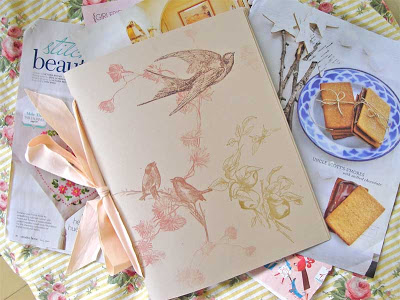 This is one of my Ribbony Notebooks (I shall offer this design on the website soon-the "ribbon" is some vintage corset-making material, part of a big lot I won on ebay in my constant search for alternatives to petroleum-based ribbon). These notebooks are amongst my favorite offerings as they are so versatile and friendly and inspire creativity. I have spent a little time this summer and hope to spend more,gathering articles and pictures that I have gleaned from magazines of summer activities, food, possibilities (cutting and pasting-mmmm). I taped in an accordian-folded set of my calendar pages for the summer months and have been writing down the summery things we do. So often, I find, a season can be over and it is all a bit of a blur and I am not sure that we did "enough" of the things that make that season Itself….I am hoping that this little record will help me to look back happily. I also paper-clipped in a list of the tasks I hope to get to (we shall see!).
Now, I really must get to thinking and also to being quiet and receptive to new ideas and directions. I would also like to ask for your contributions to my "refurnishing" of Small Meadow Press. I know what is pulling me these days, and without going into details at the moment, it has to do with not creating unnecessary things, things that will just sit in a drawer unused. It has to do with watching the way the world and our way of being in it changes and accepting that to a certain degree and creating lovely things that serve us today. It has to do with wanting what I make to strike a better balance between the machine-made and hand-made. It has to do with wanting to make things that help us with all that is most important to us-staying connected with loved ones, crafting a sweet daily life, taking care of business….things that are simple and meaningful and helpful.
I would be interested to hear if there is anything paper and inky that you have imagined, but haven't found…anything that you have wanted to make for yourself to fill a need but just don't get around to making…anything that might be fun for me to think about. I will tell you that I am sorely tempted to make a true calendar/planner, but have yet to think of something both widely useful and doable for me to fashion in quantity, in my studio. So we shall just have to wait and see about that. Pour out your paper hearts to me in the next few days, it will be so nice for me to check in to see what you have sent! And as this is an ongoing project, beyond these few precious days alone, just add your thoughts here whenever they come to you.