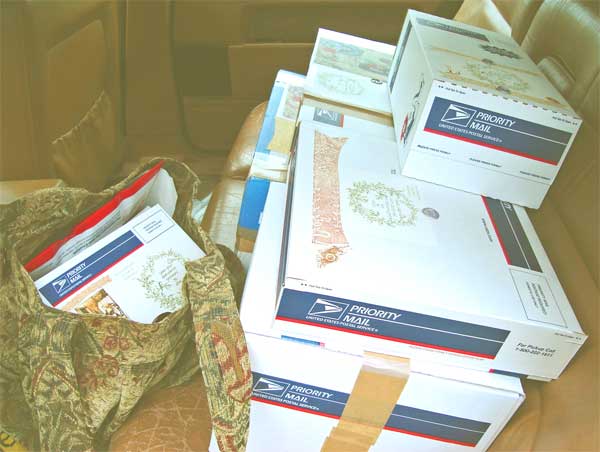 ….this has been the scene every morning as I filled the backseat of my car with packages and took them to my post office. There, my wonderful postmistress, Gwen, would weigh each one and put real stamps on it (we don't have metered machines or computerized anything in our little p.o.) and send them on their journeys to my dear customers.
Each day has been spent in my studio, gathering the orders from the website and the telephone and making things and filling the boxes with them. The first week was quiet and heavy with the worry and then crushing sadness about the Kim family….the days since then have continued to be quiet ones, but happy-to be doing such pleasant work, to have my family safe and nearby, just to be warm and together and well.
It has been really sweet and gratifying to be making lovely things and sending them out into the world to add a little beauty and meaningfulness. I am longing to get to the tidying and adorning of our home for the Winter holidays, but that will come in just a day or two. I have "closed shop"on my website, but I received a very, very large order from someone who works for a large publishing company. They want to send some of my notecards sets to their authors and editors and newspaper reviewers and such. Isn't that a nice compliment? So I have been printing and cutting and folding for the past day or two and will do so for another day until the order is finished and packaged and sent on its way….with lots of help from my family.
These are the tiny bundles of gift tags I have been enclosing with almost every package, as a little surprise… upon the blotter on my wrapping desk, where I fill each package that leaves my studio. Underneath this desk I have a large basket of all the pieces of paper that came out of my printer not quite right. These pieces are where I get the pretty little bits that I use to decorate the parcels you receive….in slow times I sift through this basket while I watch the telly and cut out the images for future use. These past weeks I have been cutting as needed and it has been so neat to make a patchwork of words and images on each box. My ulterior motive is always to cover as many of the distracting and ugly graphics on the box as possible!
I look forward to posting again soon, when this large project is finished and when I have something Christmasy to show. Until then, here is one of my favorite packages that left this week…..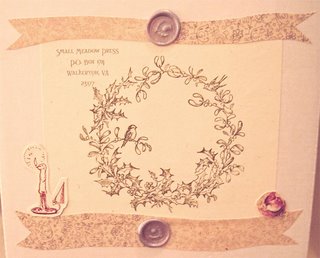 Those are two small birds nestled together in the lower right corner…if only you could see them!