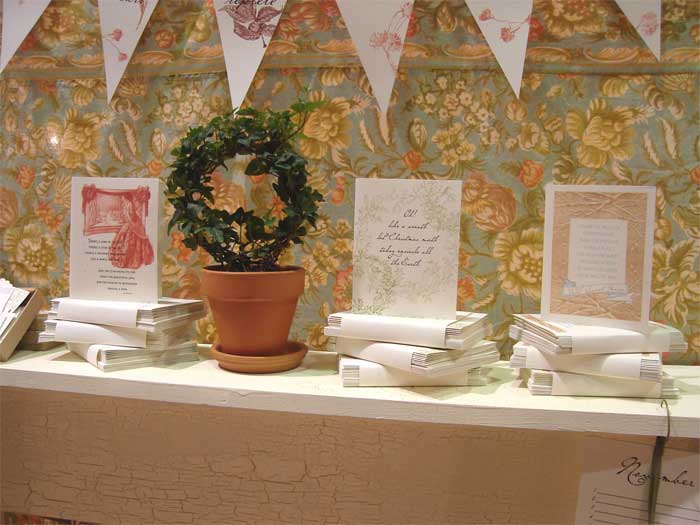 Just home from my last show of the season and I wanted to share a few photos of the lovely mantle that I mentioned earlier. It was such a pleasure to sit next to it through all the days of all the shows and think about my husband making it so brilliantly, and my son and I painting it all crackly. Not that I had any time to think about these things at this last show in Richmond. Four and a half days of sweet people, good conversations about books and paper and Christmas and peace, lots and lots of sales and so much appreciation that I am still glowing from it.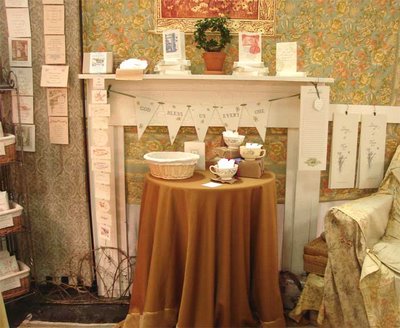 It is a beautiful thing when I stop to think of it….I get to search out words and pictures that touch me and make lovely things with them. Then other people are willing to buy these lovely things from me because those same words and images touch them. And because they do, I am blessed to be able to help keep the house warm and our bellies full and to keep growing the nest egg that I believe will take us all on a long longed-for trip to the British Isles. I thank each of you who are a part of this circle of sharing…..and I am feeling inspired to be a part of such circles of exchange with other women who are making beautiful, meaningful things and offering them via the web in the near future. But before I can turn my thoughts towards all the Christmas presents I hope to make and purchase, I have more than two dozen orders to fill in the week to come….astonishing!
A few evenings before I left for the show, I realized I hadn't ordered Advent calendars (my sons still enjoy them I am happy to report!) and December 1st would come while I was away. We have had poor luck finding proper Advent calendars in Williamsburg in recent years……proper meaning German-made with woodland animals and gnomes and/or children, glitter, hard-to-find numbered doors and cosy, soft-focus paintings inside the doors with sweet wild creatures and domestic scenes. I was fortunate enough to find some and ordered them and then went to the living room to find some of our old ones. My paper trunk is full of old calendars, Christmas cards, book covers, catalogs….anything with pretty pictures that I might be able to use again. There I found a proper Advent calendar or two and as I held up the calendars and looked at the tiny, glowing pictures, I also found just a whisper of Christmas. It is the first to come to me so far. Do you know that hushed and reverent and quietly expectant feeling?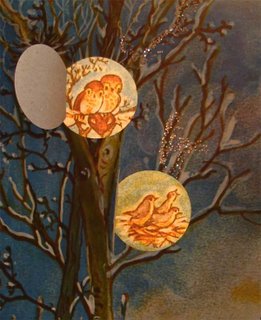 It came as I looked at those tender scenes and remembered the feeling as a child just before opening a door on the calendar….and watching my own children do the same….and then I thought of my most favorite Christmas stories that I thought I would read to our family last Christmas-time and didn't…..and that I would be certain to this year….because they give me that feeling more than almost anything else….and I thought of snow and candlelight and Christmas Eve.
The thing about these moments is that you can't conjure them up at will, they just slip softly in now and then.
May they sweetly surprise us often in the weeks to come.
Happy Advent!