We are leaving in just a few days for a rare vacation. I always knew I wanted to take two trips with my family before my children grew up and left the nest. I wanted to take a cross-country trip here at home, and I want to show them the British Isles I love. With a seventeen-year-old
in our home, I knew we had to get cracking…..so we have plotted and planned and will be taking a holiday on the west coast. Yosemite, a train ride (with our own little family bedroom!) from Los Angeles to Seattle, and an ample amount of time around Seattle with dear friends are some of what we are looking forward to. The idea of a cross-country drive lost its appeal the more we thought about it, and we are feeling very blessed to be able to go to some places that we are truly excited about.
So I won't be posting again until mid-September, as I hope to be computer-free for this holiday, and get used to not seeing all the dear faces in front of screens! These past few weeks have been sweet and fairly relaxed…..tho' I had to make lots of things for a show I am doing tomorrow, and one that I will have almost as soon as I return. Everything went smoothly this time, and it was glorious to watch the stacks of papery things grow in my studio. I would try print things in the morning while my sons slept in, and cut and fold and package while we watched a movie together or chatted in the kitchen. Sometimes I sat in the living room while they played video games and put together many, many little A Token of My Esteem boxes.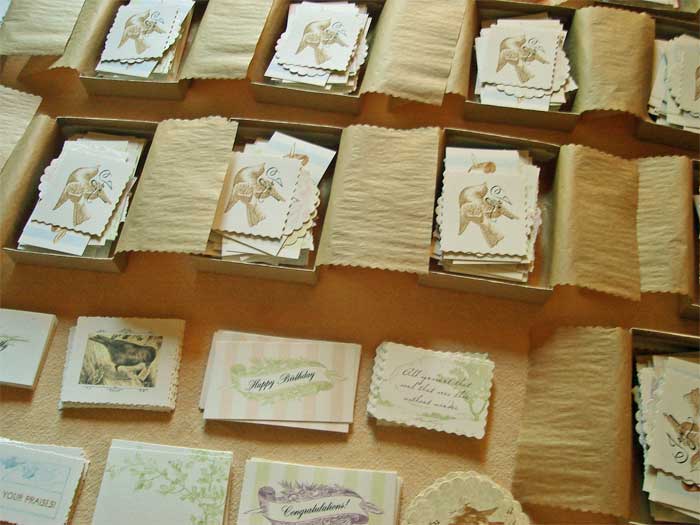 How satisfying! I did discover, however, that bustling about preparing for shows and getting ready to go on such a trip are not inspiring to the artistic soul. I had set aside yesterday as my day to create some one-of-a-king collages that have been percolating in my mind for quite awhile…..and tho' everything was tucked up in brown tissue paper for the show and the house was uncluttered and nearly ready for the house-sitter, I could not get into that slow, flowing place within myself that can play and let-go. I imagine I will devote a week or two to just that next month, and not try to sandwich in between all the good busy-ness. Have you found a rhythm for your creative expression?
"Better late than never" has been my consolation this summer, as I finally get around to certain tasks. I usually gather hydrangea blossoms from my mother's garden as soon as they bloom in early summer. This year, my sweet mother brought them to me in August, and I dried them on our English airer that hangs over the woodstove.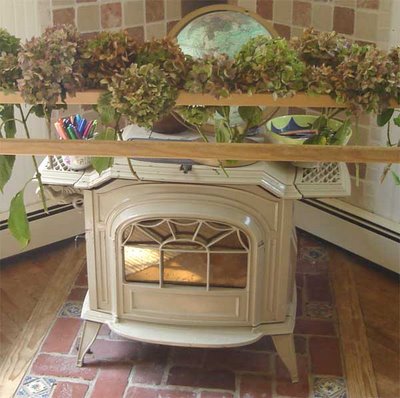 This shows it when the airer has been lowered, as you do when you fill it with clothes or dishcloths or flowers! Then you pull it up by its rope and fasten the rope to its hook and let things dry-up high and out of the way. I highly recommend one! "English goods are ever the best" is a favorite quote of ours from a funny, old movie they show at the Colonial Williamsburg visitor's center (starring that man from Hawaii Five-O as the Colonial patriot!)…and we love all our English goods. Someday I will show you the very lovely and useful dish drainer that hangs over the sink.
Now the dried blooms are filling our fireplace grate (not English, but it looks like it could be as it is raised, with sides and a curved back…..very, very pretty to look at and to make a fire in) as is our tradition. We scoop all the ashes into a bucket and sprinkle them over the garden bed and compost pile, sweep the hearth and add the flowers. It is much cheerier to look upon than the ashes and bits of charred wood that would otherwise be there. There is something so pleasing in the contrast between the clean, summery hearth and the glowing winter hearth.
When I return, I suppose that Autumn will have arrived. It will be time to fill orders again and design and begin lessons…..I will welcome that. But I won't mind a bit if summer lingers and we can enjoy a few more dips in the pool or a warm evening on the porch. I wish you a few sweet weeks until I post again.