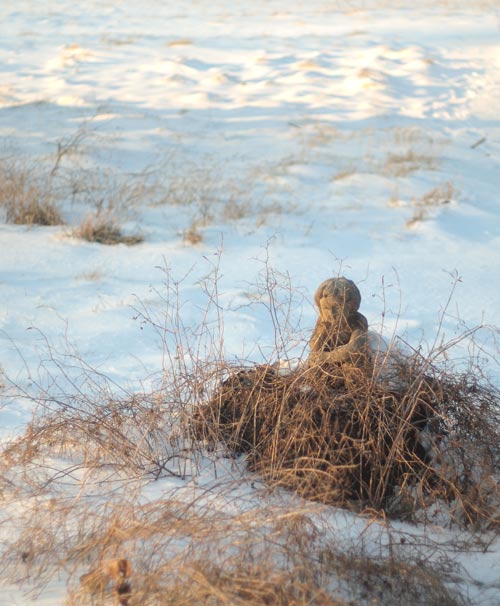 Outside my window
…the sun is finally shining on the snow that fell a few days ago, clumps of yellow-brown grass are poking through and the drip, drip of melting is what I see and hear.
I am thinking…how challenging it is to accomplish all that I would like when it is so satisfying just to sit and read/listen/watch/or just be on these still days.
I am thankful…for most every little thing, to be honest. A few tense and dangerous drives in the last few snowy weeks will do that!
In the kitchen…breakfast was toast with the last of the bread from my current favorite cookbook. For lunch, I made a batch of nori rolls for my deario to take on the road with him and enjoyed mine with another episode of Broadchurch.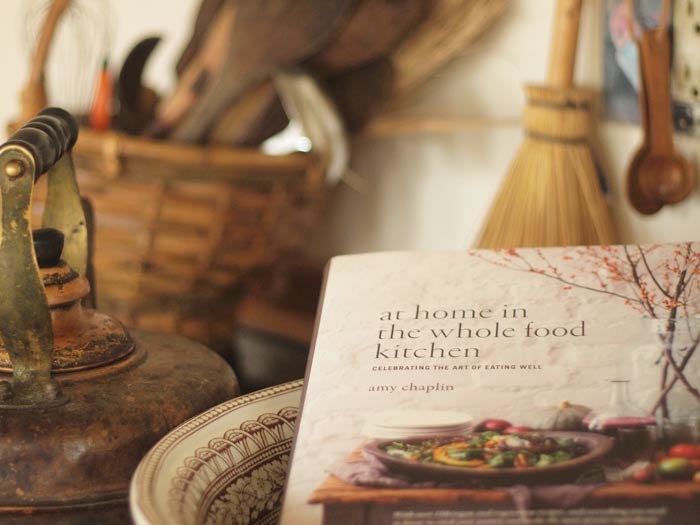 .
I am wearing…my winter layers. Today that is warm brown socks, stripey leg warmers made from worn tights, furry-lined boots, soft cropped coral-pink organic cotton pants under a brown thrift-store long-sleeved cotton knit dress, a grey-brown long organic cotton on top of it all wrapped tight and pinned with an old pin of my mom's, brown fingerless mitts from Salina and a knit hat that comes off and on according to which room I am in. I was just thinking this morning as I donned all of this, of the warm days to come when getting dressed will mean one simple dress to pull on!
I am creating…a little video for my Small Meadow Post e-card service, to show how it works and why I created it in the first place. It's a slow process as I learn the technology, wait for the pieces of it to bubble up inside of me, work on being brave enough to actually do the voice-over.
I am going…to Portland, Maine in a week to visit my eldest son, dear friends and celebrate my 56th birthday.
I am wondering…if I will fall in love with watercolor and journaling now that I've finally signed up for a class. It's only taken twenty years of considering it…
I am reading…Lark Rise To Candleford, a Marcia Willett novel, and Finding the Deep River Within. I've had Lark Rise for thirty-some years, watched the series many years ago and am finding the book very different than I expected. It is not the novel I thought it would be, more a reminiscence with lots of details of customs, village life, and the rhythms of the English countryside which are much lost. It is wonderfully interesting. The MW novel is so, so…as they all have been. I continue to search for books that satisfy as much as my Rosamunde Pilchers, Elizabeth Goudge's and Miss Read's have. The last is the book we are reading at Wisteria & Sunshine. It is deep indeed, and the one chapter a week pace we are setting is just right. I've got a Kate Atkinson novel in the wings.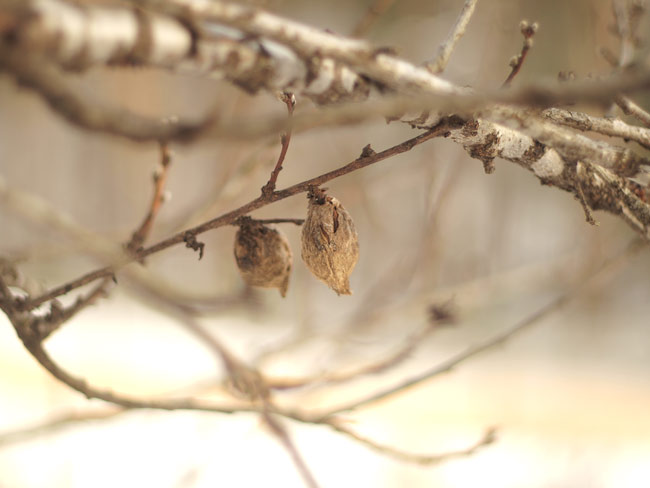 I am hoping
…that my energy and creativity with grow with the length of the days. And that I will finish cleaning the bathrooms today…
I am looking forward to
…the last episodes of The Great British Baking Show and Downton Abbey tomorrow night. Grantchester must wait until later, I can only take in so many stories at once!
I am learning
…to look less often to answers and clarity from outside of me and respect my inner promptings more quickly. It is very much a work in progress…
Around the house
…we are taking care of things large and small…slowly. We had our eighteenth-century floor shored up from below as its been needing for many a year. It feels so good to walk from the living room to the music room now and not feel a wobble, just solid, worn pine. It still dips an inch or so in the middle of the doorway, but that is from two hundred years of footsteps and I wouldn't want to change that.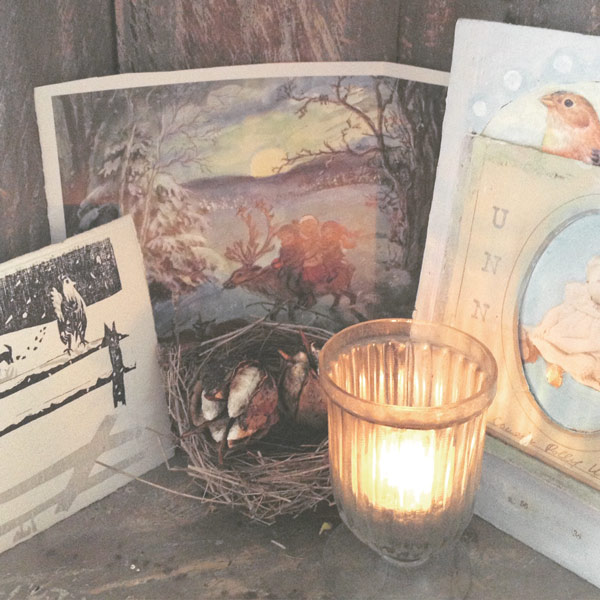 I am pondering
…what I want to create and share with the world in the year to come. It's tricky. At this season of my life, it feels more important than ever that it be truly "useful and beautiful"…to me…to you…for the earth…it's coming together in my heart…
A favorite quote for today
…"Friendship is a sheltering tree"
One of my favorite things
…watching a bird taking sips of water, especially a certain hen.
A few plans for the rest of the week
…to get the house "company ready" for the musical gathering/slumber party we are having the day after we return from Maine, get to town for another Gentle Yoga class, enjoy the first week of March!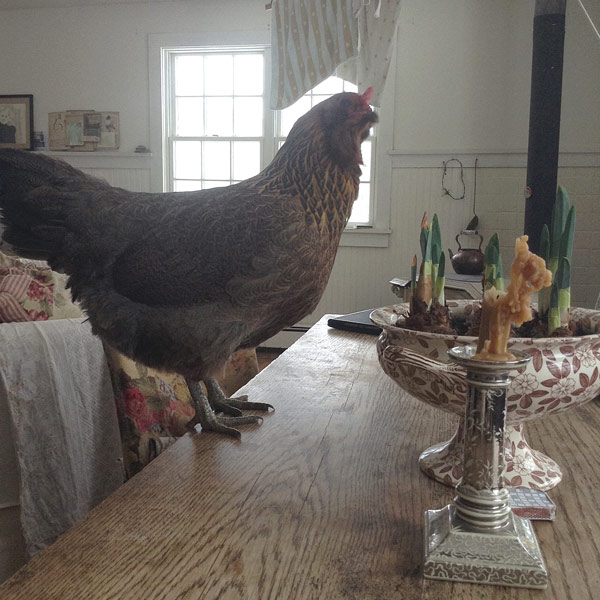 (Naughty Audrey…we keep her inside on the coldest, snowiest days so that her comb won't freeze, now that she isn't hanging around the barn. On this morning she surprised me while I breakfasted!)