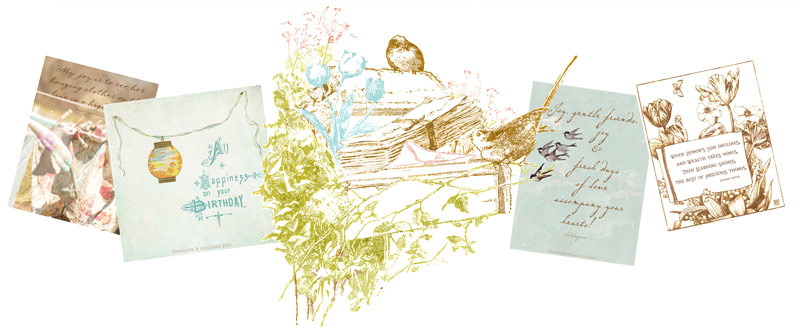 You may know me from Small Meadow Press days, when I offered "beautiful and useful papers for everyday life". And you may remember how much I enjoyed the idea of blogs being small "
post-offices in the hedge
" when I remembered that idea from Little Women.
Well, now those two ideas have come together with my Post…a new way for people to bring more connection and delight into their lives with the sending of online missives. My "missives" are e-greetings…lovely images and words arranged in a card-style and easy to email to one or many. Here is a recent design.
It works on a membership basis, one simple annual payment of $36.00 (or $24.00 if you are a Wisteria & Sunshine member) allows you to send as many e-greetings to as many people as you like in that year…from your hedgerow to theirs.
I am truly loving the freedom of designing only for online viewing…no printing, no paper needed. If I come across a beautiful image or thought, it can become something for anyone to share in just a short while. Very satisfying, as is the knowing that what I create will help others to spread joy and pleasure.