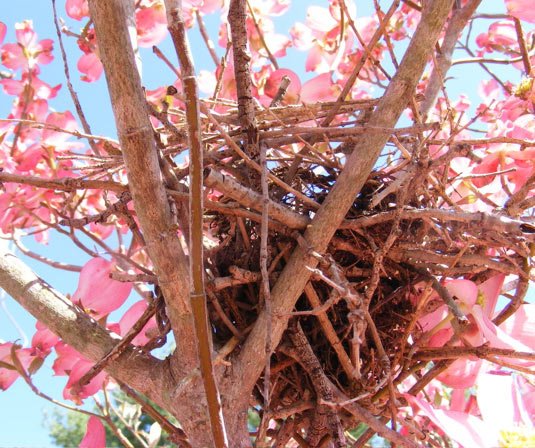 I am sending you these flowers and a nest (does it get better than that?). For today is a town day and tomorrow will find me baking a cake for my eldest son's twentieth birthday on Saturday. Yet I don't want sweet May Day to go unobserved.
This photo was taken last week in the sun and full flower of our dogwood trees.
The pink has been fading over the past few days, and the wind has been
scattering the petals over the green grass. Today, I am in town, sitting
outside in the chill, but warmed by the many comments I have received over
the past many days. I printed out the pages of comments before I left my
home this morning (on the backs of mis-printed recycled paper of course!),
and just finished cutting each message into a long strip, which I folded in
half. When my mom gets out of her exercise class, I will ask her to
close her eyes and choose a folded strip, enclosing the name of the
friend who will receive the Stationery Satchel. Then we shall
come back here to sit upon this bench (the one spot there seems to be
wi-fi!) and I will send this post. It seems fitting for her to choose, since
she is the center of my life lately…tho' she won't really understand the
whole concept, I think she will enjoy the choosing.
Congratulations to Wendy R. who has won the Stationery
Satchel….and my mother so enjoyed picking that I had her
pick once more and
Tristan
will get a little something
from my studio shelves, too.
A Lovely May Day to all!