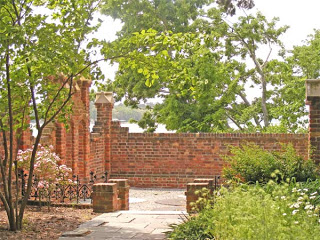 Sometimes, even when you are not sure you can afford it, it is wise to slip away from the home-place and see some new sights. My dear-io and I did just that on May the ninth when we went to Norfolk for an overnight anniversary celebration. Elder son came home to spend some time with younger son, and we left them asleep Friday morning and headed for the place that we were married twenty-one years ago…
When we arrived at the Hermitage the wind was wonderfully strong and the sunshine warm and the water was crashing up against the old walls along the river. It felt almost like being by the sea in England, and I felt all my younger-woman spirit come alive….all those dreamy, moody, romantic years of longing. As we wandered through the paths and gardens, full of memories, I found myself getting a little melancholy about the little ways it had changed since our last visit.
It was dear spot during my college years…the place I would go to escape my cares and indulge my dreams. It was the only place I could imagine having my someday-wedding, and we were fortunate enough to have that dream realized in 1987.
I wasn't going to put this picture in this post, but decided to because it makes me smile at myself….Doug took it when he came back from fetching the camera we had forgotten in the car.He caught me feeling sorry about the changes that had been wrought over the years, the people I used to share this place with, and so on…..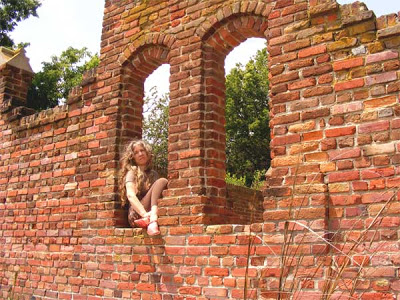 Silly me….now I feel only grateful for the blue water and green marsh grasses, the house and gardens built in my favorite time period, the layers and layers of memories there, the fact that we are alive and in love still. Thank goodness the wisdom of age quickly won over my too-romantic younger tendencies that caught me for awhile in that nostalgic place!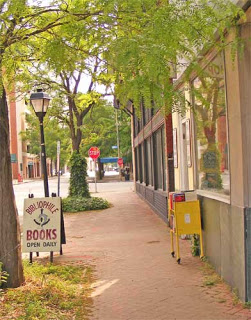 The rest of Friday and Saturday morning was spent in our lovely B&B and in wandering the cobblestoned streets of the historic Freemason District, browsing the shelves of an old bookshop, finding an empty nest just fallen from a tree in a small park, gathering a picnic supper at a local grocery store (which we ate on our big bed in the inn while the rain gently fell outside). We enjoyed ourselves so, so much and the pleasure of it all still lingers…..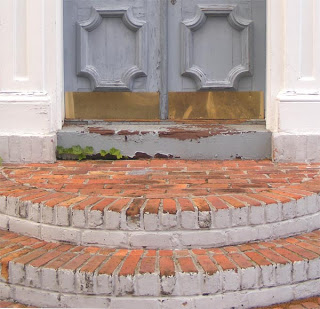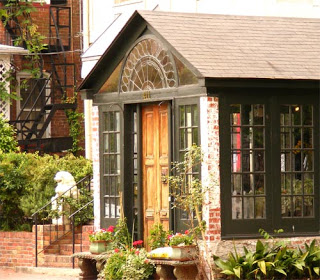 That is my future studio you see on the right (I claimed it first, dear husband!), should we ever leave our green fields and move to the city. Not likely, but it is fun to pretend, and we did a lot of that as we walked the charming streets and glimpsed the shining waters and the little shops and gracious homes. Perhaps I have not given up all of my romantic, dreamy ways!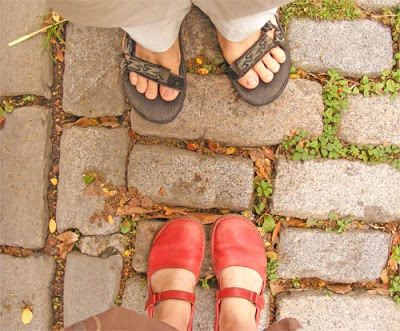 We picked up my mother while we were across the water, and brought her home with us for Mother's Day. We stopped at an art festival on the way home and my Douglas bought me a necklace that I fell for at Karie Walker's booth. This is a really special thing for me, as I never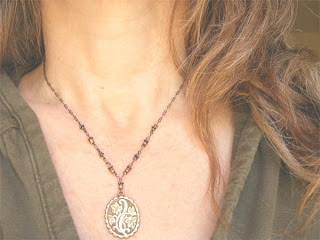 wear much jewelry….usually my wedding band and a pair of handmade earrings (the few pairs I have left, after losing one of most of the pairs I have ever acquired!)….but Karie makes jewelry from bits and pieces she finds in her travels all over the world…and this one called to me and I now I am wearing it most every day.
So we arrived home on Saturday evening, to a cleaned house (thank you, sweet boys) and our fields and family. It is such a gorgeous time of year….what I always thought Summer should be like (all those books I read that took place in England and New England!)….lush, green fields waving in the wind….acres of grain burnished greeney-gold or silvery-sage, ….honeysuckled hedgerows and blue skies scattered with puffy white clouds….wild blackberries in blossom…birdsong everywhere.
I went for a walk along the poppy field a few days ago (with pleasant thoughts of our imaginary picnic there). Thank you for all the lovely rsvps! I am looking forward to creating a collage to evoke our gathering in the lazier days of Summer, using all of your suggestions and offerings. The poppies are now gone, as the hay was made in that field a few weeks ago. But the short grass made me notice the orangey tulip poplar flower petals that had fallen to the ground…and those led my eye upwards to the tulip poplar trees and their softly glowing flowers still on the limb. After a while of appreciative gazing, I reached up on tip-toe and pulled down the end of a little branch, so that I could pluck a beautiful flower. As I gently pulled the branch, the flower tipped and sent a little shower of rainwater upon me! It was such a refreshing surprise and as I continued my walk with my flower-treasure, I noticed a sweet scent in the air and a stickiness on my arm and realized that the rainwater shower I had received was scented by the tulip flower's nectar. You may imagine what a wild-fairy-country-woman I felt for the rest of my walk through the fields and woods…Nature's benediction….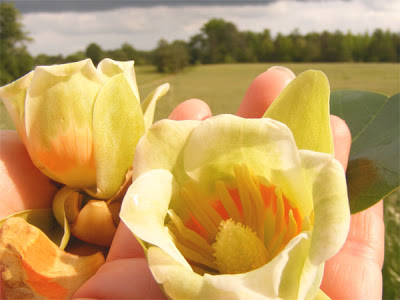 ….in the front fields, after my walk…..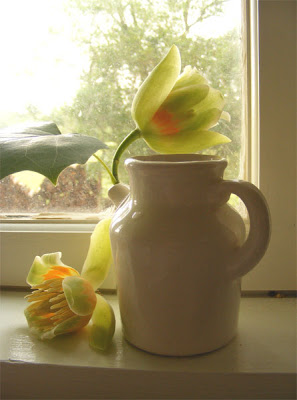 … and on my studio window-sill, where the scent still lingers in the flower's heart.