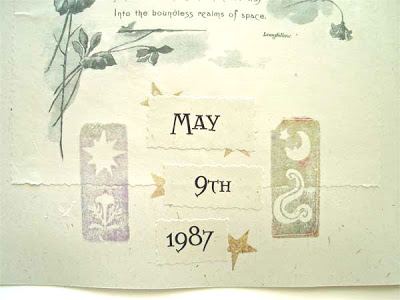 …..my deari-0 and I were wed. We have celebrated this anniversary in many ways over the years. Sometimes in a luxurious way at a bed and breakfast. Sometimes with a little outing for a restaurant meal and antique shops. Seventeen years ago found us cosy at home with our week-old son. This year, we celebrated over our usual breakfast of homemade granola with banana and raisins (with soymilk for him and yogurt for me), before saying good-bye. He has a class and an evening at work and I hope to stay awake for his homecoming. But it has been a sweet day filled with a contented-sort-of-humminess, just to have this day.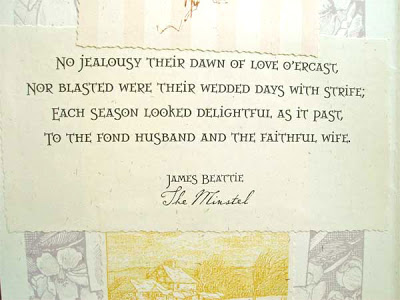 I was up late last night, making my first collage as my gift in honor of this day. I was able to use all bits and pieces of other things I have printed in the past and kept in a box because they weren't just right….snippets from custom wedding projects, valentines, calendars and such. I also used the eraser carvings I made years ago, before Small Meadow Press. The ones on either side of our wedding date are the carvings I used on our wedding invitations. The one on the left is actually supposed to symbolise "small meadow" which is the meaning of my name and on the right is "dark stream" for my Douglas.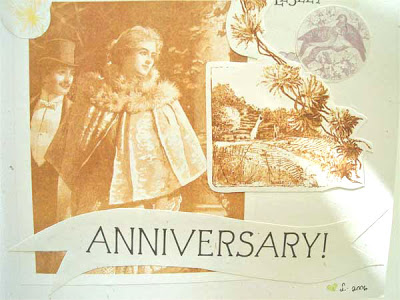 I enjoyed this SO very much and can see why it is such a popular artistic form these days. Mine was rather rushed-it was so late at night!-but I will take more time in the future and wonder what will come out of it?