I didn't mean to be away so long, but it has been an odd sort of holiday with little scope for the usual quiet thoughts that bring me here to write.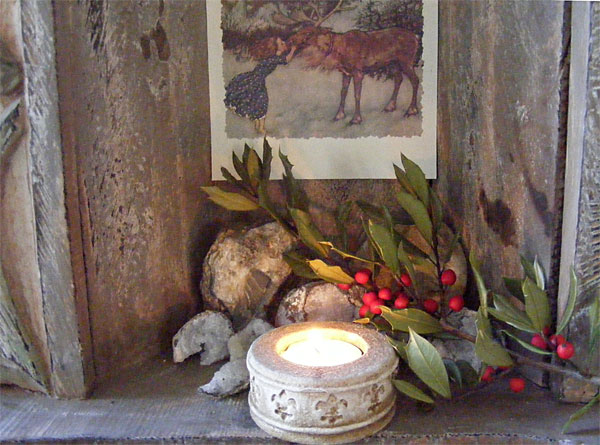 Christmas Eve morning as I was driving home from the doctor's office
after getting my stitches out, my path unfortunately crossed that of
a beautiful stag and doe as they came careening across a field
next to the highway. I braked as quickly as I could and the doe
was untouched, but then came the awful sound of impact.
This is the tableau I made in our kitchen altar in the hours afterwards as I dealt with insurance and sent prayers out that I had not harmed the deer too badly. He never stopped his running and that gave me some small hope. I couldn't help thinking about the words to one of my favorite carols that I had sung around the Solstice fire just a few days before…
"Oh, the rising of the sun,
The running of the deer…"
And then there was the reality of my dear son spending Christmas and New Years all the way across the country on a little island off the coast of Seattle. How peculiar that was for us all. But as my younger son said to me, we have had a long string of peaceful and beautiful Christmases, so it is not such a terrible hardship to have an odd one now and then.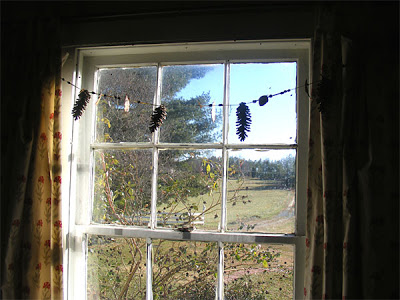 And we had much goodness, as well.
Lots of pinecones and paper chains about to bring us earthiness and cheer…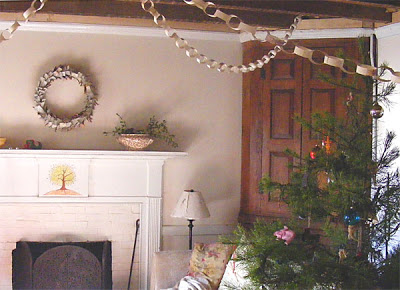 Lots of company, with gatherings large and small of friends and family
…and also the company of the lights of tree and candles…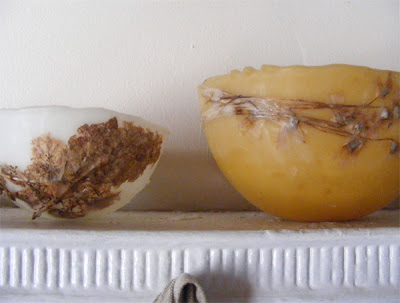 Lots of tradition…including the Advent calendar which was a joy
this year (well, this second one was a joy, the first one was a dud!)…

So much to be grateful for….
but overarching it all was a feeling of loss that had something to
do with our son so far away, but as I write, I realize that it probably
had more to do with my mother and the changes that have been
coming to her. I have been well aware of them, of course, and now
meet them on a regular basis as she has come to stay with us for
a few months, atleast.
My brothers and their families came to visit soon after Christmas
and stayed through the seeing in of the New Year. We had much to
figure out together, as well as enjoying each other's company, so the
days were very full.
This week was supposed to be one of uncluttering my studio and beginning
lessons and getting back on schedule. Instead it has turned out to be one of
sleeping in late in our cosy beds, walking through the new emotional
territory with my mom as she adapts to her loss of independence, accomplishing
a few things very slowly each day…trying to get our bearings. It has been like
a border between one way of life and another, giving us the margin I always
seem to need for Life to work.
I was also thinking about margin as I wrapped Christmas gifts too late at night on
Christmas Eve….and each time I looked at the Christmas book basket, but
didn't find the time to read….and as I sat by the still-glowing tree last night
and knew that I hadn't stored up enough such moments this holiday-time.
I have always loved old books with rough-edged pages and wide,
white margins around a little rectangle of words on each page….and the empty
wall surrounding a picture hung upon it…and the crocus nestled in the whiteness
when we are blessed with a snowfall in the late winter. When there is margin,
there is room for the spirit of something to emerge…or so I have found.
And I have not had enough margin (leeway…latitude…scope…space…room…
*sigh*) in these past weeks. What margin I have had I either fill with worry
or distraction, but I feel that starting to ease. And I feel a growing energy
that I hope will match my longing to fashion my life in such a way that
will allow the depth and essence of my everydays and holidays
to get through to me…and to those around me.
I want to learn to be better at making room.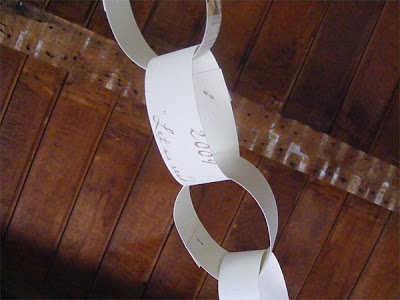 What a good time of year to be pondering it all.
This is the paper chain I made from some calendar covers that didn't
print just right during show season. I cut them in strips and fastened
them with little, brass staples into yards and yards of festiveness for our
living room. This link shows part of the quote that I put on the
back of each calendar which reads:
"Let us read and let us dance –
two amusements that will never
do any harm to the world."
– Voltaire (1694 – 1778)
Also, two amusements that you must make room in your life for, and
two (amongst many) that I plan to clear out some space in my life for
in the coming year. Will you join me?
Happy New Year to you all!