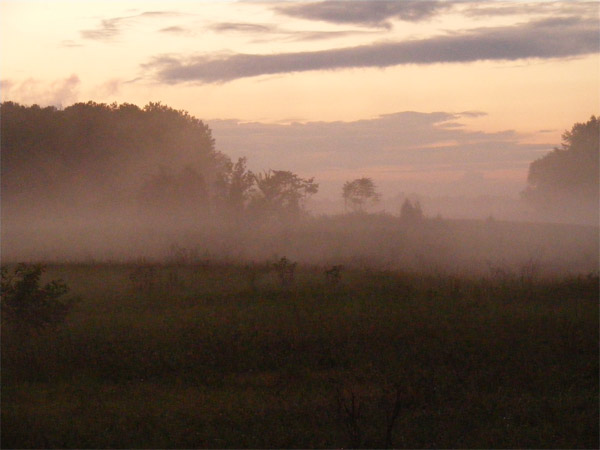 "Season of mists and mellow fruitfulness!"
To Autumn
by
John Keats
When I saw the mists spreading over the fields through my studio window, I ran outside with my camera and quickly tried to capture it before returning to my cutting and folding and tying of ribbons….
It is a busy time for me, with one show under my belt and many more to come through October, November and December. As I have been making things, I have been thinking many thoughts…about time and money and meaningfulness. When this train of thought began last month, I was most concerned with my time and how many offerings I now have and how many I have sketched in my notebooks but haven't found the time to bring into being.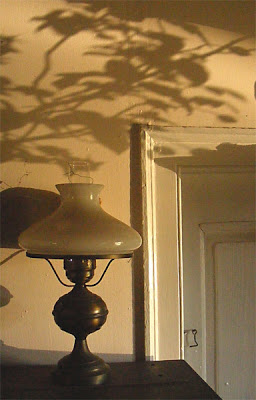 I was thinking about the small ways I want to adapt certain creations to make them more tactile, more useful, more nourishing. I imagined conversations in my mind, where I asked you whether you most appreciated the stationery I make….or would it be the things to adorn our homes and celebrate the holidays…or, perhaps, those things that make life feel more orderly and tended to? Because sometimes I don't have enough hours in the day to make all that I think of making and it would be nice to have a few particular areas to focus on (don't we all wish for that in most parts of our lives!).
And now the news about the economy has added another layer to these thoughts. For it feels even more important to be making things that truly answer needs and desires-in a beautiful and ecological way. So won't you please tell me your thoughts?
Mine so far have been to make some designs that are inspired by the odd little left-over stacks and boxes of paper and envelopes that have been waiting patiently in my paper closet. It feels good and right to use up what I have before I order any new supplies-even if those supplies are recycled and tree-free and such.
These will be limited to how much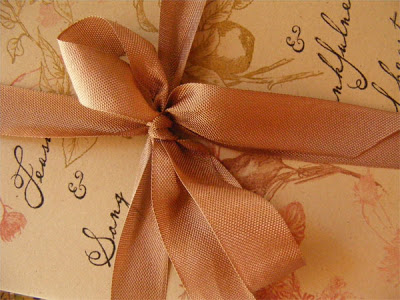 I have of each of these left-over papers….like the brown paper that inspired these Thanksgiving bundles. The envelopes in this set are stamped with my hand-carved pear stamp and the white ink looks lovely against the brown paper.
Because I have been longing for more texture in my papers (probably the influence of the period movies I love to watch!), I have redesigned my Christmas and holiday cards in french-folded paper with a laid texture, rather than the more usual cardstock. It lends them a delicate air and has also allowed me to add greetings on the inside.
I will have my Calendar of One's Own ready much earlier than usual this year (in the next two weeks), and am happy to share that this year's theme will be Books and Reading….mmmm….I have SO many quotes and cosy images that I have been collecting and can't wait to see how they will all come together.
In the New Year, for I don't think I will have the chance before then, I hope to focus on adding many more greeting card designs to my line. I want these to have really expressive, unusual quotes that say just what we want to say to those we want to stay connected to in these busy lives of ours. And if I can sort out all the many details, I hope to finally offer a Small Meadow Press planner. And so much more….but I would appreciate your ideas.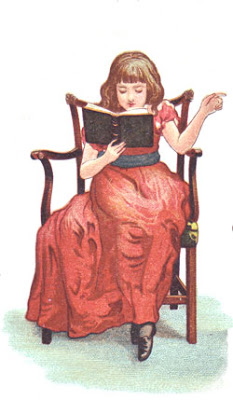 And has this charming girl brought your attention to my last paragraph? I do hope so, because I just want to say-emphasize-make clear-how very, very appreciative I am for each comment, email and note with an order that I receive. There is nothing I like better to see in my inbox than an email from "Haloscan", which is the little company that handles the comments for my blog. It is a joy to receive your thoughts and greetings and tho' I always have every intention of replying, that is one of the many things in my life that slips through the cracks. Please know that I visit your blogs and websites as a treat when I take little breaks from tasks in my studio….and read and reread what you have shared with me…and am just generally grateful for what you leave for me in this viney box in the hedgerow.
PS If Kim Vance happens to read this, won't you please get in touch with me again? I did respond to your questions in an email which has been returned to me several times, so we need to try again!