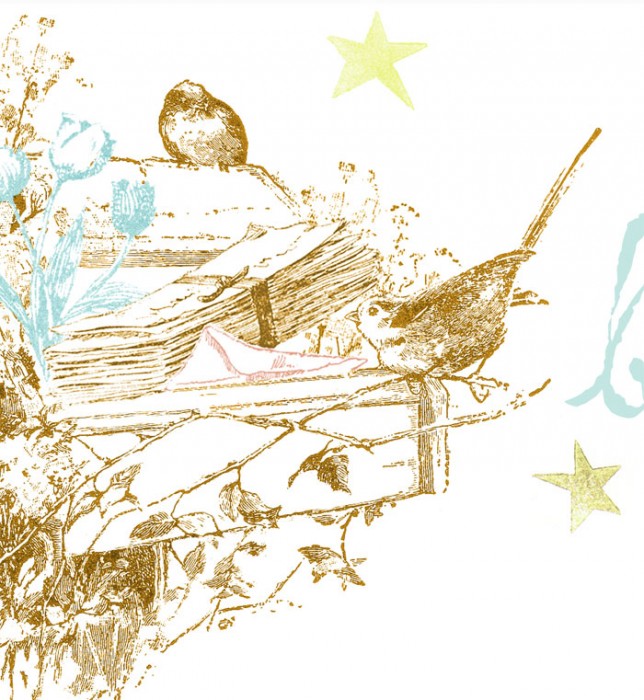 Today is the second anniversary of my venturing out into this bloggy-world. I am so grateful for all the conversation and connection we have shared here, and am wishing us Many Happy Returns of this Day!
In honor of my "blogiversary", I designed the new banner…my attempt to evoke the post-office-in-the-hedge that I have come to feel this blogging world can be for us. I started with an image from an old childrens book of a wooden box on a post, covered in vines. I am not sure what it is supposed to be in the story…a bird house, perhaps? It is empty in the original illustration, with several birds perched about it and giving it a careful look-over. I erased a bird or two and "trimmed" back some of the vines and wildflowers….so that we will be able to find the letterbox when we wish, and not prick ourselves on the bramble's thorns.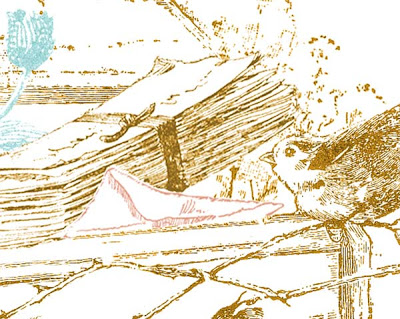 Next, I filled the empty space with letters and flowers…. looking at it just now, I imagined the bundle of letters as my old posts and your comments, tied up with a bit of old ribbon, and there for the perusing. The tulip bouquet is a recent post and you have been kind enough to leave me a note in a little pink envelope. I can envision it so clearly…taking a walk along a country lane and anticipating the moment when the little letterbox comes into view. May the click of a mouse and the typing on the keyboard somehow translate to birdsong in the hedge and the papery rustle of what we leave for each other.
I have been thinking about how I would like to celebrate this anniversary if there were no barriers of time and distance….I would invite you all to a picnic in one of our meadows. Before you arrived, I would raise a roof of cloth upon four stout branches so that we would have some welcome shade from the warm sun. And there would be cloths spread upon the long meadow-grass, as well, tho' we would be careful not to sit on the poppies that are sparsely scattered there at this time of the year. There would be little stands and little tree stumps full of delectable savories and sweets and there would be cups of freshly-brewed tea…an ever-replenished supply throughout the long hours we would spend conversing in the meadow.
Won't you please come?
If you leave me a comment, I will know that you would like to come to my picnic-in-the-meadow….and if I can manifest another idea I have had…I will someday make a collage of us all there amongst the poppies and cups of tea. In quiet moments lately, I imagine how I would represent each of you. For instance, if Alicia was a reader of my blog, I would not put a photo of Alicia in the collage, but a photo of her Clover Meadow. For Amy, I would probably use her new little bird…for Dori….perhaps a tea cup? If you don't want to leave it up to my imagination, do let me know what I might use to portray you.

And finally, it is a continual surprise to discover that my blog has been mentioned kindly somewhere…a humble and lovely surprise. I don't have a blog roll of my own here at The Bower, for serenity's sake, but I am so grateful to be appreciated and send that appreciation right back to those who have sent it to me. What follows is a list I have been gathering the past few weeks, of places that have sent visitors my way. I apologize that it is not a complete list and know that I must have left out some…but I hope to have acknowledged those in the past, or will do so in the future.
talesfrompixiewood.blogspot.com/
chezsmiffy.blogspot.com

thedraperhouse.blogspot.com/
homekeepinghearts.blogspot.com/
theinspiredroom.wordpress.com/

thestarcrossedblogger.blogspot.com/
travelsofabooklovingmom.blogspot.com/
acottageindustry.typepad.com/

buttonwillowchronicles.typepad.com/
artsymama.blogspot.com/2007_08_01_archive.html
charmingthebirdsfromthetrees.blogspot.com/
salinashomejournal.blogspot.com/