I am pouring most of my time and creative energies these days into Wisteria & Sunshine, the private haven for women that I created in January 2012. In its peaceful rooms, we explore living more simply and earth-thoughtfully, the circle of the year, navigating this modern life and we steep ourselves in beauty and encouragement. I'm posting Monday-Friday these days, so there is always something new and good to find…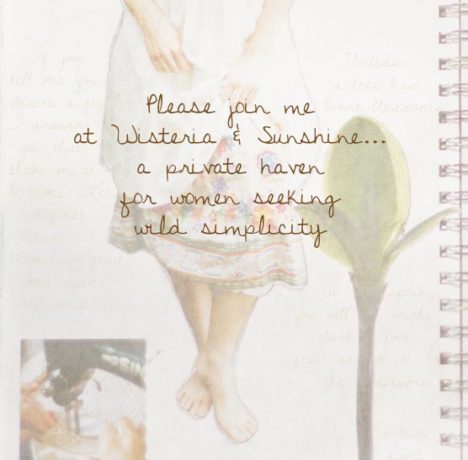 For many years I shared photos and a few thoughtful words at Instagram. But I took a break there in last year, for reasons I share in my last few posts, and I doubt I shall go back. My days feel slower and more peaceful without the pull of the scroll and other's realities. When I do want to visit any dear ones around the web, I do so from my blog-following page here.
And tho' I am not adding to it now, there is much to read and see at Make Do & Mend the Earth.
Perhaps you know and love someone going through dementia or Alzheimer's? I had the bittersweet privilege of caring for my mom during her last years on earth and chronicled them at Under My Wing. I always hope my sharing there might be of comfort to others in a similar situation.